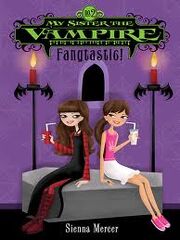 Olivia is a vegetarian. Ivy is a vampire. And they're twins?!?
Ever since Olivia discovered that her long-lost twin sister, Ivy, is a vampire, she's been soaking up everything Ivy will tell her about Franklin Grove's vampire community. It's all top secret, and Olivia's sworn that she'll never tell another soul. But now, nosy tabloid reporter Serena Star is snooping around. As she gets closer and closer to the truth, it's up to Ivy and Olivia to throw her off track. This is one fangtastic news story that can't get out!
Ad blocker interference detected!
Wikia is a free-to-use site that makes money from advertising. We have a modified experience for viewers using ad blockers

Wikia is not accessible if you've made further modifications. Remove the custom ad blocker rule(s) and the page will load as expected.