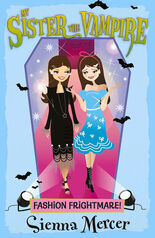 The twins' 16th adventure finds them sleuthing with style
The Café Creative fashion show is just around the corner, and everyone who's anyone is ready to strike a pose. Everyone except Ivy, that is. Modeling is her worst nightmare! Twin sister Olivia is there to lend a hand. But soon strutting down the catwalk is the least of their worries, when a priceless accessory goes missing. Is there a couture crook in Franklin Grove?
Ad blocker interference detected!
Wikia is a free-to-use site that makes money from advertising. We have a modified experience for viewers using ad blockers

Wikia is not accessible if you've made further modifications. Remove the custom ad blocker rule(s) and the page will load as expected.