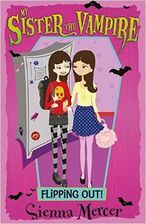 A funny, super-girly story with a vampire bite to it. Sink your teeth into Ivy and Olivia's fourteenth fright-time adventure! The twins are adjusting to high school, but everything is still topsy turvy. Ivy's flipping out about being the most popular girl in school. All she wants is some time to herself! But her band of superfans are clinging to her tighter than bats to a cave. Meanwhile, Olivia is on a matchmaking mission. But will Queen Goth Amelia and Skater Boy Finn be able to put aside their differences and realise they are head over heels for each other? 
Ad blocker interference detected!
Wikia is a free-to-use site that makes money from advertising. We have a modified experience for viewers using ad blockers

Wikia is not accessible if you've made further modifications. Remove the custom ad blocker rule(s) and the page will load as expected.