Is Transylvania ready for the twins?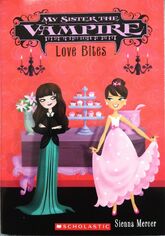 Olivia and Ivy are headed to Transylvania to meet their dad's side of the family, which just happens to be vampire royalty. Olivia is prepped to feel out of her element, but discovers she fits in with the fanged ones pretty well.Ivy is a little less at ease-fancy clothes, royal dinners, and endless curtsies aren't really her style. She soon has a project to distract her, however. The crown prince of Transylvania seems a little too interested in Olivia-is he just being friendly, or is he up to no good?
Ad blocker interference detected!
Wikia is a free-to-use site that makes money from advertising. We have a modified experience for viewers using ad blockers

Wikia is not accessible if you've made further modifications. Remove the custom ad blocker rule(s) and the page will load as expected.