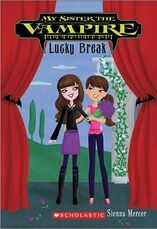 The play's the thing!
Oliva and Ivy are thrilled that their friend Camilla is putting on a play.And not just any play- Romeo and Juliet! Could anything be more romantic? Oliva is swooning at the thought of stepping into the lead role (and hopes that dreamy Jackson will be Romeo to her Juliet). But no Theater production happens without its fair share of dream... and this one is no exception!        
This book features hot guys, horses and high school hi-jinks! Ivy and Olivia are super excited - their aunt on their mother's side has invited them to stay at her ranch, to get to know them. But she's not in on the vampire thing, and when Ivy scares off her favourite horse, Lucky, the girls have to find him. Or risk blowing the coffin lid off the secret...Meanwhile, the school is putting on a production of Romeo and Juliet. Surely Olivia's boyfriend Jackson - Hollywood teen heart throb - is a shoo-in for the part of Romeo? So when Olivia gets the part of Juliet she's delighted. Only, Jackson isn't Romeo, he's Mercutio. And, even worse, Garrick, the grossest of the vampire 'Beasts' gang, is playing Romeo. So Olivia will have to kiss him - and she hasn't even kissed Jackson yet! Oh my darkness! The twins need a lucky break like a vampire needs blood! juhybgvtfcrdexswzaxcfvgbhjkl;lkjhgf
Ad blocker interference detected!
Wikia is a free-to-use site that makes money from advertising. We have a modified experience for viewers using ad blockers

Wikia is not accessible if you've made further modifications. Remove the custom ad blocker rule(s) and the page will load as expected.