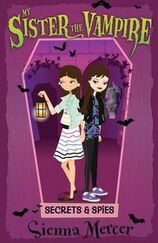 A funny, super-girly story with a vampire bite to it. Sink your teeth into Olivia and Ivy's fifteenth fright-time adventure. There's always a lot of stuff to keep hidden in Franklin Grove (like, um, the fact that vampires exist), but suddenly everyone seems to have gone into Secrecy Overdrive! Ivy's sure that new girl Maya is up to something, and it involves Ivy's boyfriend, Brendan . . . Oh my darkness!
Ad blocker interference detected!
Wikia is a free-to-use site that makes money from advertising. We have a modified experience for viewers using ad blockers

Wikia is not accessible if you've made further modifications. Remove the custom ad blocker rule(s) and the page will load as expected.